my my my... i finally got to come back online! what happened was that i was having some connection problems with singnet and it caused me to be unable to come online for 3 weeks!!! i was occasionally online when i was @ starbucks but trust me, the wireless@sg's connection is really nothing but bullshit.
how nice man =(
but anyway. i'm currently not taking any orders because business was bad. hahaha i guess with the price of butter and flour constantly on the up, many bakers like me are taking a break from business and rather tune into home baking. yup, so no more chocolate chunk cookies or cupcakes baking coz i am baking those like almost twice a week in the past.
so what's baking lately? =)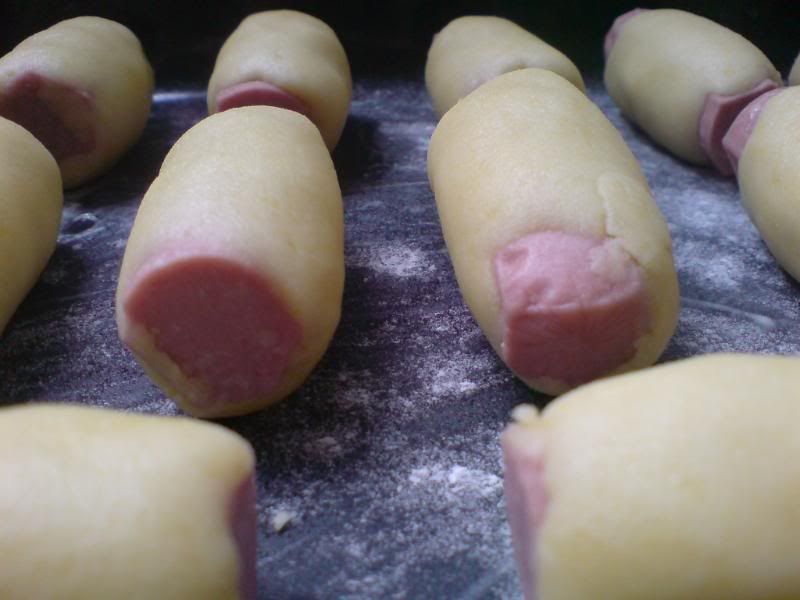 sausage rolls!!! i did baked this like 2 years ago and back then, i know nuts bout ratio of flour to butter and all those theories. i just agar agar throw in some butter and flour to form a dough, roll them and wrap a half of a sausage and brush on some eggwash and baked them. the results? nice and crispy crust and yummy sausages, but the moment you pick them up, they cracked!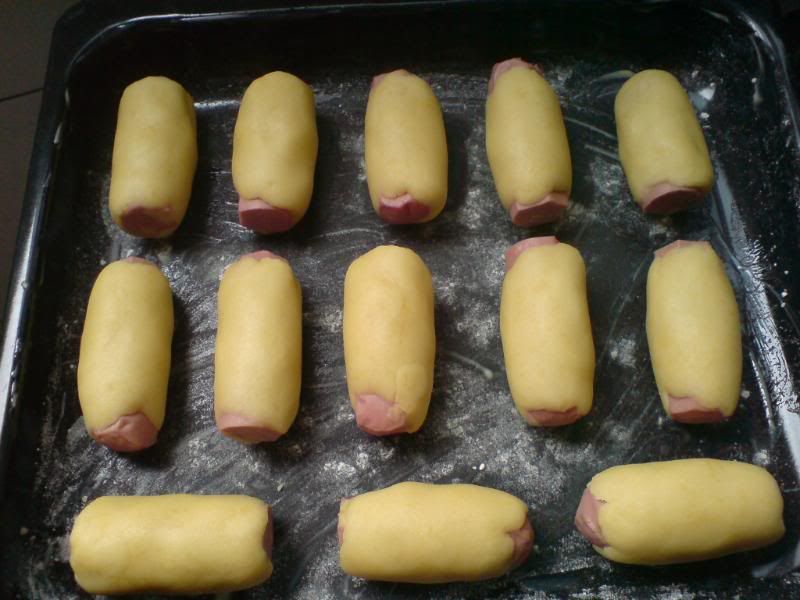 and 2 years later after all the cookies, cupcakes and breads, i finally come to understand that without the mercy of a yolk, the dough will not come out as one piece hot from the oven. so its very simple, i just used half a block of butter (about 125g) and bout 1 1/2 cup of all purpose flour and one egg yolk. as for the sausage, just get your favorite brand of chicken or pork franks and half them. a dough like that is just nice for one packet of sausage and therefore yields 20 sausage rolls.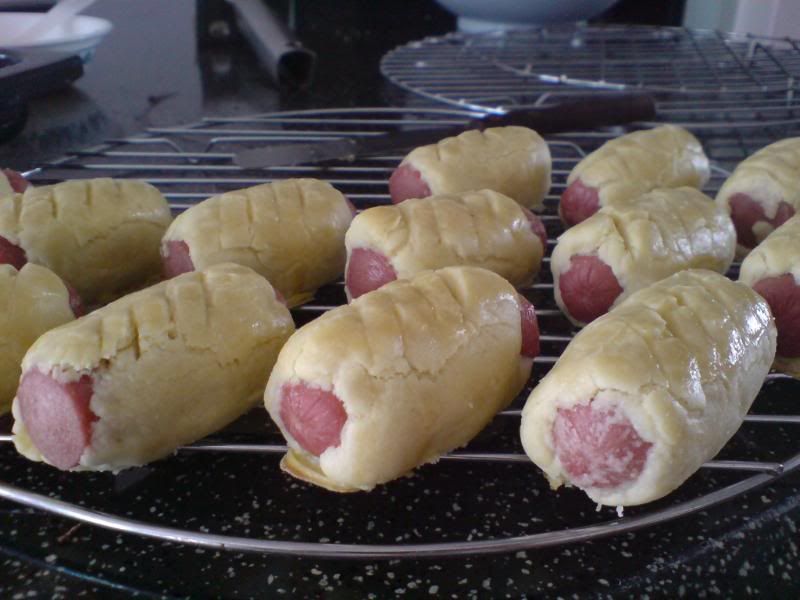 it's suppose to be 'pigs in a blanket' by Nigella Lawson but since i used chicken sausages (shared it with some muslim friends) it's chicken in a blanket for me. results? buttery crust with yummy chicken sausages and this time round, no one cracks!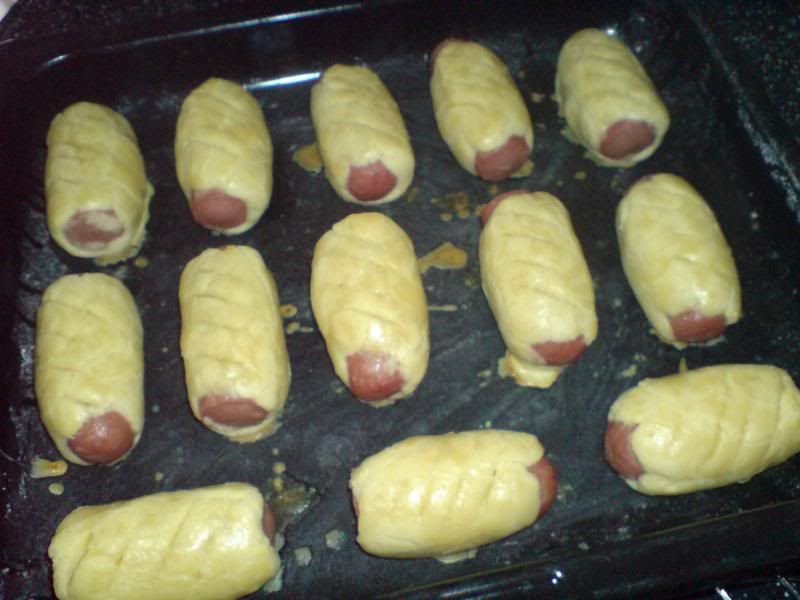 another bake was a Devil's cake from Small Small Baker. i was having this awful cake craving for 3 weeks (since the broke down of my internet connection) and it got worse day by day because i worked opposite Secret Recipe and Cedele pot! i came across this recipe on SSB and it's a definitely must for me. without a thought i moved my butt and start working.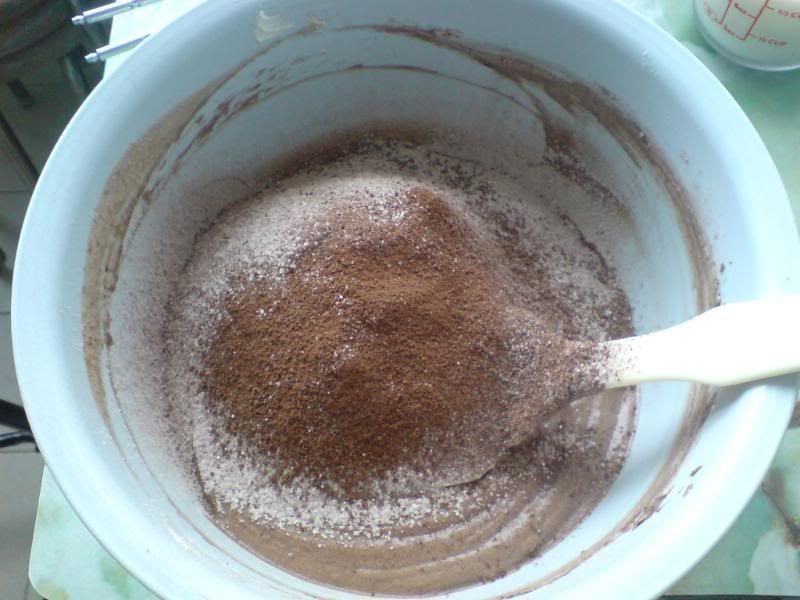 the ingredients and methods are easily understood but problems kept arising for me when i tried to asemble the cake. first was when after the cake was done, i actually dropped the cake after i remove it from the cake tin!!! it fell on the table and it was too darn hot to use my hands to carry. so, i used plates!!! and worse because the whole cake cracked into 2 layers!!! XD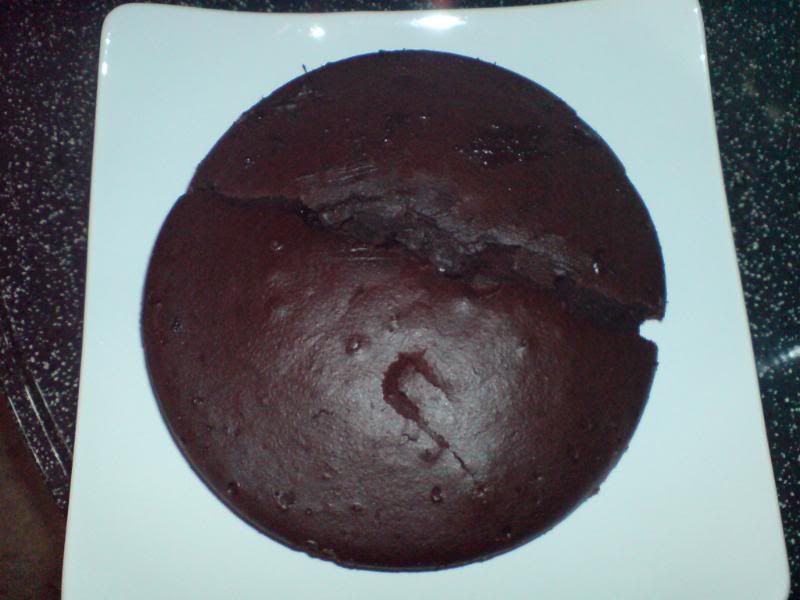 2nd was when after i sliced the cake neatly and cool them, again, IT SLIPPED OUT OF MY HANDS! its really frustrating for me but nonetheless, i whipped up a chocolate ganache, asemble the cake, throw it into the fridge to chill it and close my eyes ('Mo Gan Tai' no eyes to see in Cantonese)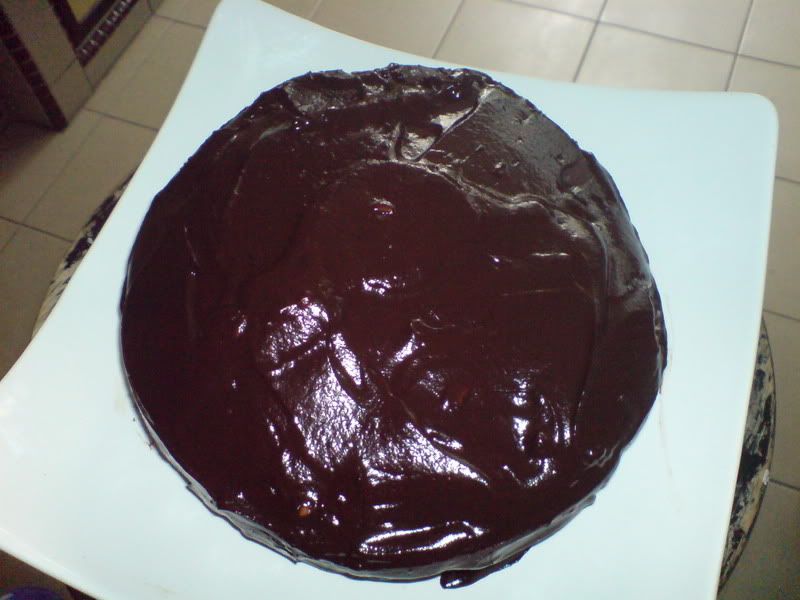 nonetheless it turns out quite well!!! i used like only 150g of sugar instead of the 385g stated in the recipe. i admit i was feeling a bit lazy that day. so instead of 66g of cocoa powder, i just dump in 3 big heapful tablespoons of it into the flour mixture and one whole sachet of coffee powder. heh i dunno if i did spoil the taste of the cake but all i know is that the cake turns out to be not very sweet and a strong aroma of cocoa. so instead of a devil cake, it turned out to be a Bittersweet heavy chocolate cake for me =)
anyway here's the original recipe from the SSB's website. i hope she wont mind me trying out her recipe =P
Ingredients
180g butter (i use only 125g coz not enough butter and lazy to go down buy)
385g caster sugar (i used only 150g)
3 eggs (60g each)
225g self-raising flour
75g plain flour
1/2 tsp bicarbonate of soda
66g cocoa powder (i used 3 real big heapful tablespoons)
3 tsp dry instant coffee (i used one whole sachet)
1/2 tsp red food colouring (I omit this)
125ml water
125ml milk (i used wheat milk)
Rich Chocolate Frosting:
60g dark chocolate
60g unsalted butter
Method
1. Grease 2 deep 20cm round cake pans, line bases with paper; grease paper.
2. Beat butter and sugar in small bowl with electric mixer until light and fluffy; add eggs 1 at a time, beating well after additions.
3. Transfer mixture to large bowl, fold in sifted flours, soda and cocoa with combined coffee, colouring, water and milk, in 2 batches.
4. Pour mixture into prepared pans; bake in preheated oven at 180C for about 45 minutes. Turn cakes onto wire rack to cool. Join cold cakes with whipped cream, top with rich chocolate frosting. (
I use rich chocolate frosting for both layers.
)
Rich Chocolate Frosting:
Combine chocolate and butter in heatproof bowl over pan of simmering water, stir until smooth. Remove from heat. Cool at room temperature until spreadable, stir occasionally while cooling.
* i did not follow the frosting or ganache in this recipe. i just merely melt a bowl of dark conventure chocolate drops with some milk chocolate with hot wheat milk and stir till it reaches spreading consistency)